[ENG] Postach.io hacks. How to prepare post draft with Evernote

You can read Russian version of this post
here.

Idea
There's no post without an idea. When idea comes to me I immediately write it in Evernote. This is very convenient, because Evernote client is always at hand. On the phone I have installed widget with quick access to the most useful Evernote features. When I'm at the computer I just need to press CTRL + ALT + N and new note opens immediately. In both cases, notes with ideas fall into the notebook Inbox.
Plan posts
I use Zendone as my GTD system. All notes from notebook Inbox fall into this GTD service and I can plan date for my posts. As a result, all of the ideas fall into the "Site idea" project where I can clearly see when post is planned.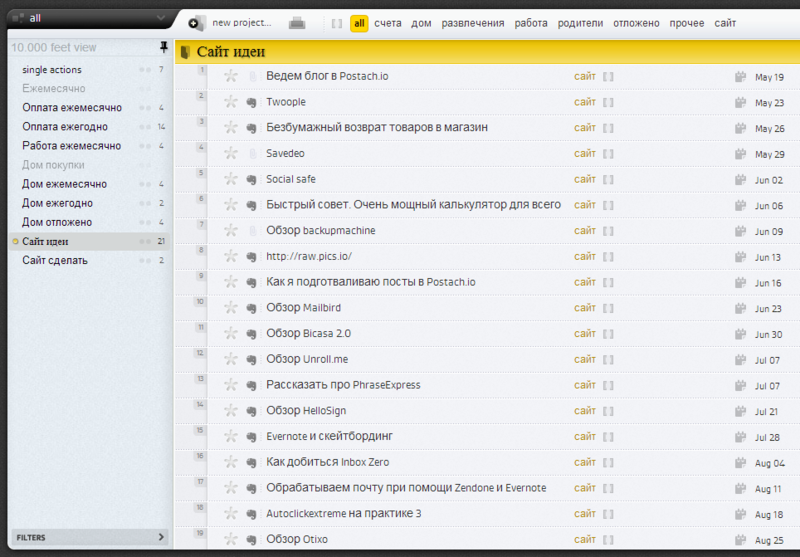 When it comes publishing date, Zendone gives me a signal and I publish the relevant post.
Prepare posts
Obviously, before you post something that you need to write something. There are three types of drafts that I use:
Types of drafts:
Draft - the post is still in the writing stage.
Yellow - a post that is ready for publication, but it has links to other still unpublished posts. It is called Yellow because I mark such references with yellow color.
Ready - post is ready for publication.
These labels I prescribe in the title of notes, so it's always in-front of my eyes and I can't accidentally post an unprepared draft. I keep these notes in a separate notebook.

Publish post
When the publication date comes, I look at the title and if it says "Ready", I immediately add Published tag, move the note in a blog's notebook and post goes straight to the website. If the title has some notes, I am submitting changes first, and then publish. The most important thing before publishing the post - change the creation date of a note in Evernote. Because it is this date post will be published in Postach.io.